San Diego Opera's "Roméo et Juliette" Features Thrilling Singing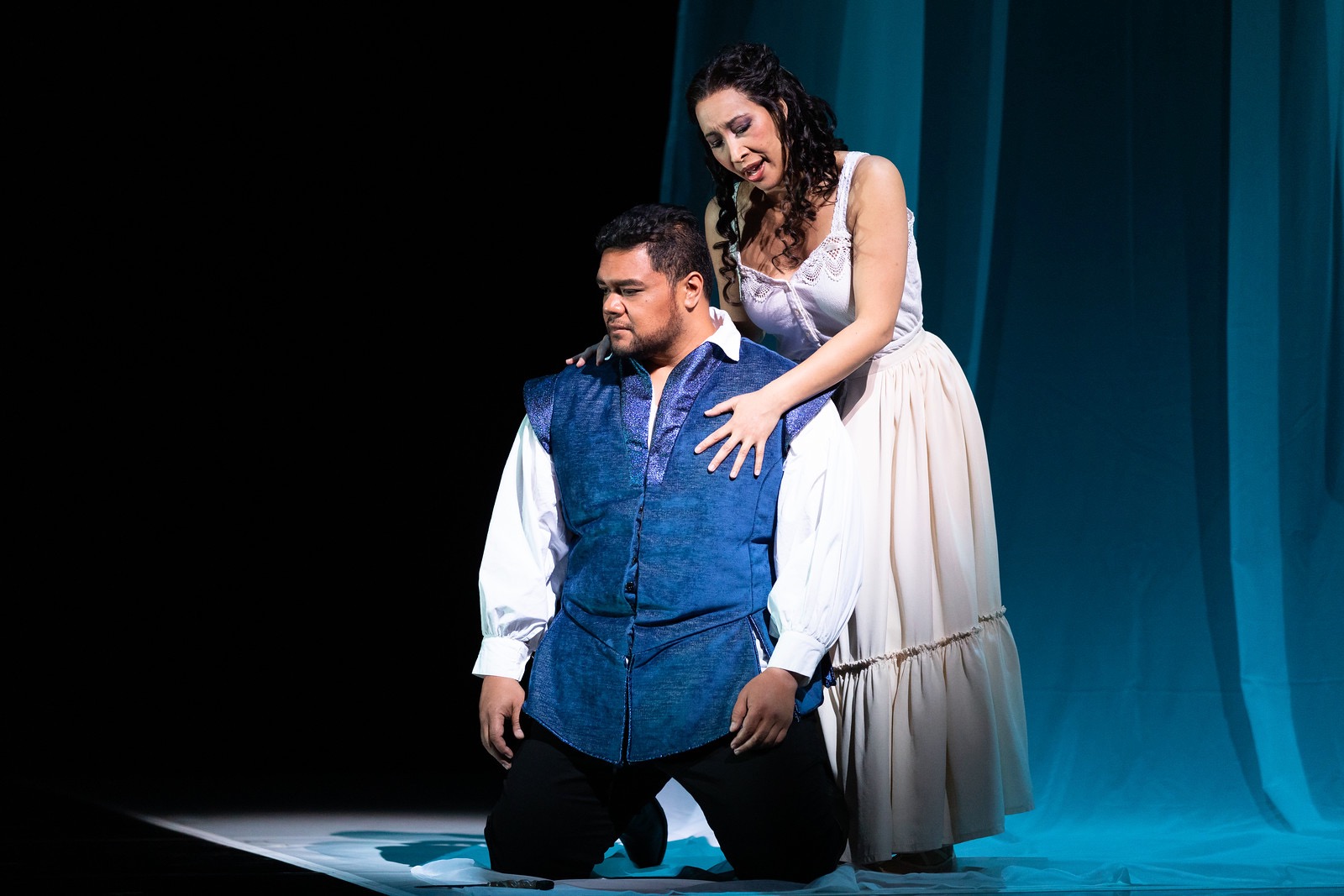 Pene Pati is Romeo and Nicolle Cabell is Juliette in San Diego Opera's Roméo et Juliette. Photo by Karli Cadel.
By Guest Reviewer Mary Ellen Clark
April 2, 2022
Roméo et Juliette had its first performance at the Théâtre Lyrique in Paris on April 27, 1867, and was the only complete and immediate public success enjoyed by any of Gounod's operas. Faust may remain Gounod's triumph, but only   brought him uncontested triumph in his lifetime. Over 150 years later, it continues to be among the few mainstays of French opera regularly performed in this country. It remains an audience favorite due its opportunities for lavish staging and thrilling vocalizing, both of which are on ample display in San Diego Opera's current production, on view through April 3 at the San Diego Civic Theater.
The role of Juliette was admirably sung by California native, Nicole Cabelle, whose professional career was launched by winning the 2005 BBC Cardiff Singer of the World competition. Her distinctive, warm and technically secure sound was complemented by an elegant stage presence. Her Act I aria, "Je veux vivre," reflected her experience and confidence in this role.
Her Roméo is an exciting newcomer, New Zealand tenor Pene Pati. It was said of Jean de Reszke, the Met's first Roméo, that "His voice is sympathetic and lends itself easily to tender accents. It is more the singer's use of it than the voice itself that charms." The same could be said of Pati, whose robust tone and commanding stage presence unite to produce an indelible and dramatic impression. His Act I cavatina, "Ah! Lève-toi, soleil," instantly propelled the audience into a teenage dream of love with all its attendant joy and romantic enthusiasm. 
Also of note was baritone Hadleigh Adams as Mercutio, whose Queen Mab aria was delivered with elegance and verve. Tybalt was sung by tenor Adrian Kramer whose voice summoned impressive thrust and ring in the duel scene. As Capulet, baritone Colin Ramsey was creditable, but never displayed the fatherly pride and enthusiasm that one expects in the ball scene. Bass Simon Lim as Frère Laurent was exceptional, combining tonal solidity with the gravitas essential to his character. Mezzo-soprano Sarah Coit, who performed the trouser role of Stéphano, delivered her Act III "turtledove" aria with lightness and clarity, incorporating an elegant high C in the cadenza.
The six-person corps de ballet performed admirably in the ball scene, and contributed an eerie, phantom-like atmosphere in the final scene in the tomb. These very young and talented dancers were a charming addition to the production.
The orchestra was ably led by San Diego Opera's new principal conductor, Franco-Canadian Yves Abel. Director Matthew Ozawa created a lavish and visually beautiful production, with scenic design by William Boles and costumes by Sarah Bahr. 
Grand opera has definitely made its return to San Diego. Que ça continue!
Afterword
As a former French teacher and ardent Francophile, I would be remiss if I did not comment on the evening's approach to French diction. I was reminded of the words of Pitts Sanborn, legendary music critic for the New York Globe, who asked, "Why attempt to give an opera in French when most of the singers might just as well be singing in Choctaw?" Mr. Sanborn need not have worried about this production – the French was uniformly understandable and perfectly pronounced, especially by Mr. Pati, whose every word was crystal clear. Only Miss Cabell allowed some Choctaw to creep in, detracting from her otherwise impressive performance. When I listen to the vinyl recording of Jussi Björling and Bidú Sayão's epic 1947 Met performance, even with very modest recording technology, their excellent command and delivery of the French language is evident, and reflects the norm of a bygone era. Happily, this current cast was equally adept, due in part, I expect, to the influence of a Francophone conductor and to the instruction of Bruce Stasyna, listed as the French diction coach.  At a time when proper diction has sadly fallen by the wayside in many operatic productions – seemingly replaced by supertitles – it was wonderful to hear the beautiful words of this opera sung so clearly and so well. San Diego Opera is to be commended for its careful attention to this important element.
The Cast
Pene Pati – Roméo
Nicole Cabell – Juliette
Adrian Kramer – Tybalt
Colin Ramsey – Count Capulet
Hadleigh Adams – Mercutio
Simon Lim – Frère Laurent
Sarah Coit – Stéphano
Matthew Ozawa – Stage Director
Yves Abel – Conductor
Remaining performance
SUN, APR 3 AT 2PM
Tickets and San Diego Opera information