CLICK ON VIDEO ABOVE: Alternative models of Opera in America
A Town Hall Meeting
 Hosted by Nicolas Reveles
THURSDAY, APRIL 17, 2014, 
4:30PM
San Diego Civic Concourse, The Copper Room
Downtown San Diego
Panelists
Marc Scorca
President and CEO, Opera America
David Devan
General Director, Opera Philadelphia
Don't be passive. The Opera is worth fighting for.
Massenet's Don Quichotte
The Excellent Cast
Don Quixote: Ferruccio Furlanetto
Sancho Panza: Eduardo Chama
Dulcinea: Anke Vondung
Rodriguez: Joel Sorensen
Juan: Simeon Esper
Pedro: Micaëla Oeste
Garcias: Susannah Biller
Ténébrun Chief Bandit: Hervé Blanquart
Four Bandits: Chad Frisque, Michael Blinco, Anthony Ballard, and Joseph Grienenberger
Two Servants: Clifford Derix, Joshua Vincent
Conductor: Karen Keltner (who has always been treated like chopped liver here in San Diego — but last night she received very warm applause from the audience)
Director: Keturah Stickann (Very nice work. Captured the romanticism of the piece perfectly.)
Choreographer: Kristina Cobarrubia (Wonderful work at giving us authentic seeming Spanish dancing.)
Scenic Designer: Ralph Funicello
Costume designer: Missy West
Lighting designer: Marie Barrett
Wig and makeup designer: Stephen Bryant
Chorus master: Charles F. Prestinari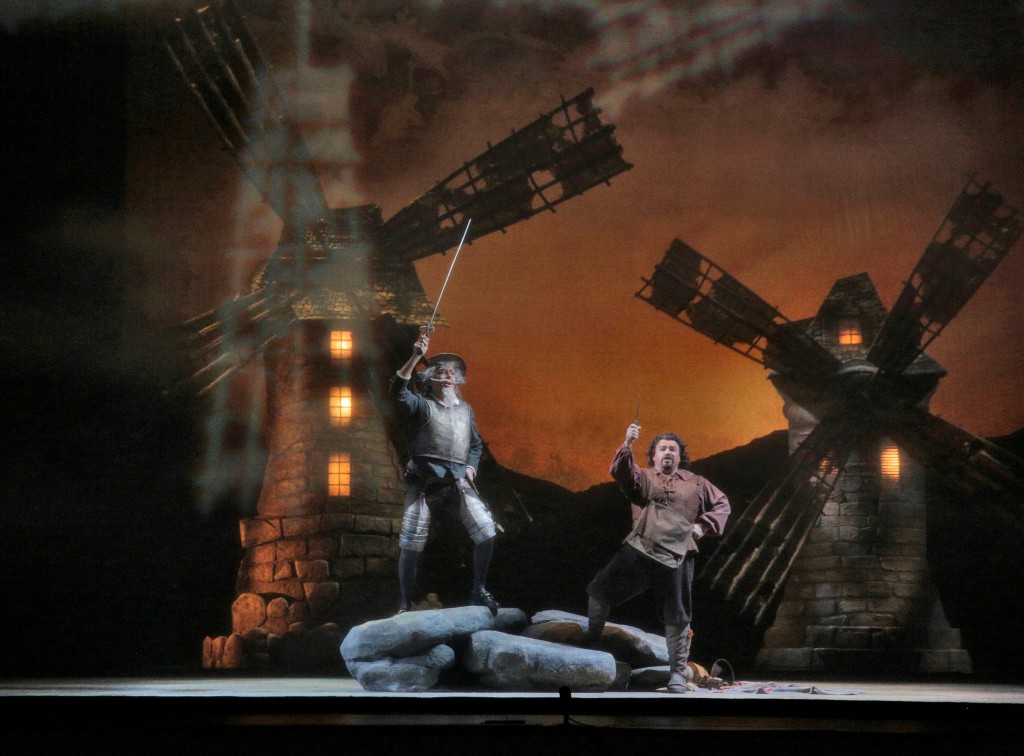 Bass Ferruccio Furlanetto is Don Quixote and bass baritone Eduardo Chama is Sancho Panza in San Diego Opera's DON QUIXOTE, April 2014. Photo copyright Ken Howard.