Grotesque, Horrific, Comical, Compelling: Santa Fe Opera's "Faust"
Santa Fe Opera
Review by David Gregson
Tuesday, August 16, Santa Fe New Mexico
Charles Gounod's "Faust" has boasted starrier casts and greater productions than the one currently on view at Santa Fe Opera, but it is difficult to imagine a more enjoyable one — at least for this old veteran of innumerable Fausts remembered, half-remembered and totally forgotten. "Faust," after all, is such a warhorse, it's difficult to avoid it riding into view time and time again over a lifetime.
Oddly enough, it rarely gallops onto the scene fully intact: something is usually cut, almost always the Walpurgis Night orgy of demons in the Harz Mountians. Most contemporary opera goers and producers are simply not partial to the extra time and expense of producing a lengthy ballet scene, even if eliminating it cuts out some good music and some elements important to the plot. Many seemingly logical rationalizations exist for cutting out the ballets in many operas: the dance holds back the story, nobody has the patience for such things anymore, and the extra music isn't really all that good anyway, and in fact it was actually added at a later date as a compositional afterthought.
Indeed, "Faust" began as an opéra comique (with spoken recitative) and only got tarted up with a fancy ballet sequence for its transfer to the much grander Paris Opera in the Palais Garnier.
Here in Santa Fe, director Stephen Lawless has defied all conventional wisdom, reinstated the dance music — and he has a great deal of fun with it. No traditional tutus and tights for this ballet. With the not insignificant help of the witty choreographer Nicola Bowie, and the pricelessly entertaining costume designs of Sue Willmington and set designs of Benoit Dugardin, this Walpurgis Night resurrects six infamous femmes fatales (many of them fugitives from French operas, in fact): Helen of Troy, Manon, Salome, Cleopatra, Carmen, and Dalila. They all get solos, amusingly in character, and everything degenerates into a cat fight toward the end. A bit much, but demonic debauches should always be this much fun.
In general the Faust story, of course, would not seem to offer too many opportunities for humor, but Lawless skillfully finds these moments without sacrificing the terrible pathos of the tale of a supposed innocent maiden (Marguerite) who is seduced and impregnated by a heartless bounder (Faust) in league with the devil himself (Méphistophélès). She goes mad, kills her baby, is sentenced to prison and to execution — but Deus himself plays the deus ex machina, tears down the prison and orders His angels to deliver the once innocent girl to heaven while sending Faust straight to Hell. This doesn't happen in Goethe, of course, but that's quite a different story. Gounod's tale comes from Michel Carré's much more sentimental drama, "Faust et Maugeurite," and Carré is co-librettist of "Faust" with Jules Barbier.
To carry off such a musical melodrama successfully, one needs three very strong singers, plus an extra one for Marguerite's badly named brother, Valentin, a nightmare sibling if there ever was one, eagerly cursing his sister to eternal damnation. If he had been in the Taliban, he would have had her stoned her to death. Still, Valentin, a baritone role, gets a very pretty, if rather insipid tune ("Avant de quitter ces lieux," used lamely by Gounod in the opera's prelude). I thought Christopher Magiera was much more than adequate in this part, though I would have preferred a sound of greater size and resonance — a criticism I would extend to basso Mark S. Doss as well in the role of Méphistophélès. Nonetheless, Doss was an immensely effective devil, and, along with Magiera, he demonstrated that good acting is just as important as good singing these days.
The two performers who rose above almost any negative criticism were the superlative soprano Ailyn Perez (recently heard in San Diego Opera's much less interesting production of "Faust") who sang every phrase of the opera with genuine sympathy and feeling. The beauty of her voice and the refinement of her dramatic skills makes her one of the best Marguerites I have ever heard and worth the trip to Santa Fe. And it was a joy to have her matched by a tenor of whom I had not heard before, Bryan Hymel, who sang securely and with great style. The voice itself is strong, manly, with a plangent ring to it. He is solid in the high notes, always an important part of being successful in opera. I hope to hear him many more times.
I must not forget to mention the famous trouser role of Siébel, sung with convincing, boyish earnestness by Jennifer Holloway. She and Lawless made the role seem much more important than it usually seems. Siébel here is a vital, touching part of the romantic love triangle, I will not forget the image of her cradling the dying Valentin in her arms. Marguerite's companion/nurse/housekeeper is so often sung by an over-the-hill mezzo, but here we get Jamie Barton, one voice I would definitely like to relish in some larger role.
I also want to hear more of conductor Frédéric Chaslin who made solid gold out of the orchestral playing.
As for the entertaining production, it could be said to take place entirely inside of the older Faust's copiously book-lined study. Six black openings arranged diagonally on the stage wings, both right and left, show books galore and allow for the many imaginative exits and entrances and bits of stage business. The famous Kermis (outdoor carnival) appears in the study — quite elaborately too, with six sideshow booths in the style of a 19th-century freaks exhibition, and a giant Ferris wheel at the back. Later Marguerite's jewel box in the Garden Scene rolls on in the form of a complete boutique.
The time of the opera seems to be roughly late 19th and early 20th century.
One problem that affects the stage in the elaborate carnival scene is that it grows almost too packed with players and chorus members (excellent, by the way) for any of them to move about for the dances. And at other times, the study is starkly minimalist: a bunch of flowers and a coffin dead center, maybe a house at the back. The general impression is that of alternating abundance and sparseness of visual imagery.
This may be the first time I have seen the two lovers getting undressed to off to bed together. Obviously Lawless makes the most of everything. Inventive and often very humorous stage business abounds. But in the famous church scene, Lawless takes us into the realm of the horror movie. The Devil is Marguerite's father confessor, and he reaches though the screen to steal and murder her babe in arms. Marguerite's baby, by the way, is more prominent in this show than I have ever seen it before. She has it in a pram and in her arms — so when it is taken from her in a church full of red-faced devils, the effect is heart wrenching.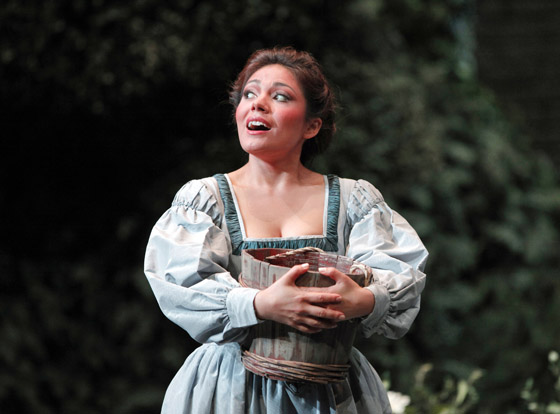 I found the controversial ending most effective. We do not get the opera's now fairly absurd stage directions. Everyone in the chorus comes on stage and sings "Christ is risen!" and Marguerite wanders off into the organ loft, the symbol of her doom and of musical redemption for most Christians.
CAST:
Marguerite – Ailyn Perez
Marthe – Jamie Barton
Siebel – Jennifer Holloway
Faust – Bryan Hamel
Valentin (thru 8/1) – Matthew Worth
Valentin (from 8/8) – Christopher Magiera
Mephistopheles – Mark S. Doss
Wagner – Darik Knutsen
Production:
Conductor – Frédéric Chaslin
Director – Stephen Lawless
Scenic Designer – Benoit DuGardyn
Costume Designer – Susan Willmington
Lighting Designer – Pat Collins
Choreographer – Nicola Bowie