CLICK ON VIDEO ABOVE: Alternative models of Opera in America
A Town Hall Meeting
 Hosted by Nicolas Reveles
THURSDAY, APRIL 17, 2014, 
4:30PM
San Diego Civic Concourse, The Copper Room
Downtown San Diego
Panelists
Marc Scorca
President and CEO, Opera America
David Devan
General Director, Opera Philadelphia
Don't be passive. The Opera is worth fighting for.
Massenet's Don Quichotte (as it is known in multilingual areas of the world)
The Excellent Cast
Don Quixote: Ferruccio Furlanetto
Sancho Panza: Eduardo Chama
Dulcinea: Anke Vondung
Rodriguez: Joel Sorensen
Juan: Simeon Esper
Pedro: Micaëla Oeste
Garcias: Susannah Biller
Ténébrun Chief Bandit: Hervé Blanquart
Four Bandits: Chad Frisque, Michael Blinco, Anthony Ballard, and Joseph Grienenberger
Two Servants: Clifford Derix, Joshua Vincent
Conductor: Karen Keltner (who has always been treated like chopped liver here in San Diego — but last night she received very warm applause from the audience)
Director: Keturah Stickann (Very nice work. Captured the romanticism of the piece perfectly.)
Choreographer: Kristina Cobarrubia (Wonderful work at giving us authentic seeming Spanish dancing.)
Scenic Designer: Ralph Funicello
Costume designer: Missy West
Lighting designer: Marie Barrett
Wig and makeup designer: Stephen Bryant
Chorus master: Charles F. Prestinari
W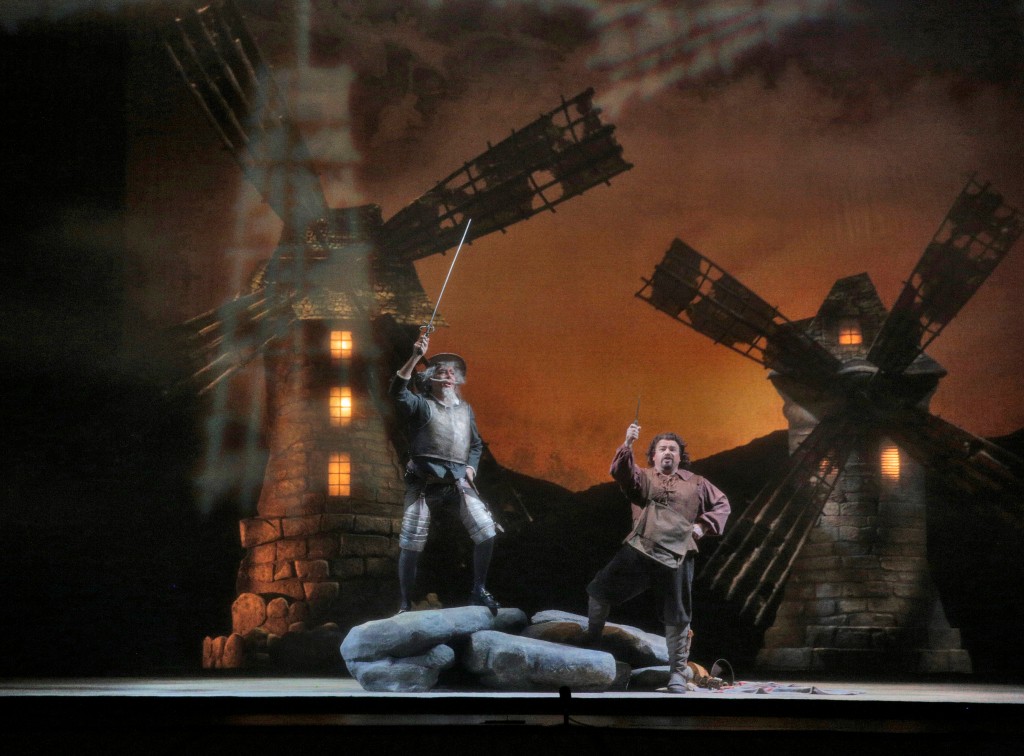 Bass Ferruccio Furlanetto is Don Quixote and bass baritone Eduardo Chama is Sancho Panza in San Diego Opera's DON QUIXOTE, April 2014. Photo copyright Ken Howard.
SAVE THE SAN DIEGO OPERA ONLINE PETITION
THE BIG SFO to SDO TRANSITION IN 1965. I remember it if other people do not. I was there! Civic Theater was built, San Diego Opera started up in that venue and the fabulous San Francisco Opera visits retreated forever! 1965 saw SDO's 'La bohème.' That same season was San Francisco's last. I saw the SFO present 'Lohengrin' with fabulous Jess Thomas and ditto Hildegard Hillebrecht; 'La fanciulla del West' with FRANCO CORELLI and the super-brilliant Marie Collier (now unjustly forgotten because of her untimely death); and an all-star 'Die Fledermaus' with Thomas Stewart, Mary Costa, Richard Lewis, Brian Sullivan and Patricia Brooks. That was a year of transition. Now — NOTHING. Thanks so much Mr. Big Shot! A transition to nada, zilch. Just great! We will wring our hands and say "Oh how sad" because we Americans do not know how to do **anything** anymore. If we went to the opera, we would have to drive over collapsing infrastructure and fall off a bridge. Welcome to the Third World.
Please leave comments below! There's a place to do that.
A friend and colleague writes:
"This isn't just about the few hundred people who will lose their jobs if San Diego Opera shuts down on April 14. There are thousands of opera professionals around the world who have worked on the stage in San Diego, been inspired by or learned from the operas presented and the outreach to school children over the years.
"There are thousands of regular folks who buy seats in the balcony because they love opera. Hundreds of restaurants and hotels in the area will be affected, too, not just from the audience who comes in but the performers and creative teams who spend three or four weeks at a time in San Diego, often with their families.
"Please sign the online petition and see if the Board won't reconsider its decision.'
Ian Campbell's curtain speech captured by someone in dress circle (I am guessing) with a video telephone. Though there was much booing, this tape starts late and captures mostly the applause of Campbell loyalists.